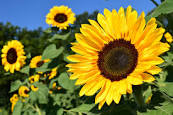 Falmouth's annual sunflower growing competition will be launching soon to see who can grow the tallest sunflower.
You will be given full instructions on how to plant and nurture your seeds, chart their growth and watch them flourish.
A top prize of art materials, flower and vegetable seeds and a personalised trowel could be yours!
What's involved?
Receive your seeds, compost and pot from Jacqui Owen, details to come.
Plant your sunflower seeds and watch them grow.
Take regular photos and measurements and post to our private facebook page.
Have fun and share tips with your friends.
The winner will be the person who has grown the tallest sunflower by 20th September
Why get involved?
It is a fun way to stay connected when staying at home
A prize could be yours!
How to get involved?
Accept this challenge by logging in or signing up.
A member of the team will contact you with details of how to receive your seeds, compost and pot.
Start growing your sunflower...
Ideal Skills
Conservation
Gardening
Photography
Social Media
Working independently
Ideal Interests
Community Work
Conservation
Creative and Arts
Learning and Education
Teaching and Training
Outdoor work