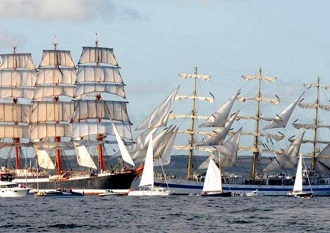 For the first time in nine years, Falmouth will once again host the start of the prestigious Tall Ships Race, Magellan-Elcano 2023.
The race starts on Friday August 18th and will be preceded by a visually stunning Parade of Sail and several days worth of celebratory shoreside events, during which time visitors will have the opportunity to board some of the historic tall ships. . Tickets to access these ships that will be sited within the A&P Falmouth Docks, will go on sale nearer the time and will be priced at £5.00 for adults and £2.50 children.
Ideally, volunteers should be 18+ and live relatively near Falmouth or to a bus/train station - this supports the planet and the budget!
What's involved?
We are looking for over 100 event volunteers to ensure the weekend goes as smoothly as possible.
How to get involved?
Please accept this challenge.
If you are signing up for the first time and don't want alerts to opportunities other than Tall ships, please only tick the Tall Ships box in skills and interests.
If you haven't already signed up with Volunteer Cornwall please register your interest here: AFD/Tall Ships 2023 and Heidi Channell, Volunteer Co-ordinator, will be in touch with more information. If you require additional information please email HeidiC@volunteercornwall.org.uk
Ideal Skills
Event Stewarding
Working independently
Working with Young People
Tall Ships
Ideal Interests
Community Work
Events and Programming
Learning and Education
Marketing and communications
Outdoor work
Tall Ships