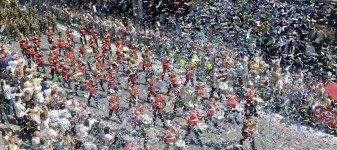 This year Falmouth has been chosen as the host town for Armed Forces Day National Event. The weekend celebrates and supports the whole Armed Forces community from service families, serving troops, veterans and cadets.
Ideally volunteers should be over 18 and live near Falmouth or near local bus routes into the town.
What's involved?
We are looking for over 100 volunteers to ensure the weekend goes smoothly and happy memories are created.
For more information on the weekend follow the link:
armedforcesday.cornwall.gov.uk
Why get involved?
To show your thanks to the armed forces and get involved in a national event, providing help and advice to visitors.
How to get involved?
Please accept this challenge.
If you are new to signing up with us and are only interested in National Armed Forces Day volunteering, please only tick the Armed Forces skills and interests boxes.
If you haven't already signed up with Volunteer Cornwall please register your interest here. AFD/Tall Ships 2023
Heidi Channell, volunteer coordinator, will be in touch with more information.
If you require additional information, please email heidic@volunteercornwall.org.uk
Ideal Skills
Customer Service
Event Management
Event Stewarding
National Armed Forces Day
Ideal Interests
Community Work
Event & Project Management
Events and Programming
Learning and Education
Marketing and communications
Visitor Service/ Front of House
Outdoor work
National Armed Forces Day